An Evening with Julian Barnes
February 8, 2018 @ 7:00 pm

-

8:30 pm

£20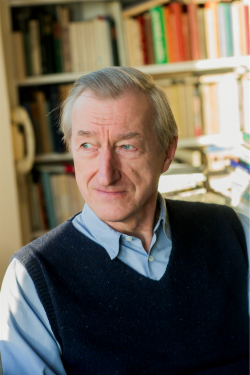 #NEWSFLASH Man Booker Prize winning author Julian Barnes (The Sense of An Ending, The Noise of Time) coming to Dulwich 8th February 2018
Over the past few years Julian Barnes has been writing compressed, spare fiction and non-fiction which addresses the great themes of what Edward Saïd might have termed Late Style – the hallucinations and deceptions of memory, what happens when our value systems collide with those of others, how we manipulate feelings of shame, how we self-censor and how we create coherent narratives out of our life stories in ways which may appear meretricious to those who have been part of them.
In The Sense of An Ending (winner of the Man Booker Prize in 2011), The Noise of Time and now The Only Story, he has created an outstanding triptych of short novels that will emerge as a towering achievement of early 21st century English language writing.
The Only Story opens in stockbroker country in the 1960s, complete with a tennis club, a golf course, unreliable cars, and prodigious quantities of alcohol and love. Paul is nineteen, home from university for the summer, and partnered with Susan, a local housewife of forty-nine, dressed in tennis whites with green piping, in the mixed doubles tournament. This chance pairing leads to a lifelong relationship but one laced with tragedy and regret, violence and repression. Barnes examines what happens when we allow 'a social life to stand in for an emotional life' and how co-dependency and its concomitant shame affect all concerned. A masterpiece of both restraint and insight.
Barnes does very few events and has agreed to talk about his writing with particular emphasis on this latest book. It will be a privilege to welcome him to Dulwich.
Location: All Saints Church, Lovelace Rd, West Dulwich, London SE21 8JY
The event will start promptly at 19.00 and finish by 20.30
Tickets are £20 (admission + copy of The Only Story) or
£30 (admission for two + copy of The Only Story
Please note that refunds are not available except when an event sells out