Damian Le Bas: A Journey through Gypsy Britain
September 6, 2018 @ 7:00 pm

-

9:00 pm

£5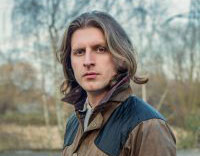 Damian Le Bas grew up surrounded by Gypsy history. His great-grandmother would tell him stories of her childhood in the ancient Romani language; the places her family stopped and worked, the ways they lived, the superstitions and lores of their people. But his own experience of life on the road was limited to Ford Transit journeys from West Sussex to Hampshire to sell flowers.
In a bid to better understand his Gypsy heritage, the history of the Britain's Romanies and the rhythms of their life today, Damian set out on a journey to discover the atchin tans, or stopping places – the old encampment sites known only to Travellers. Through winter frosts and summer dawns, from horse fairs to Gypsy churches, neon-lit lay-bys to fern-covered banks, Damian lived on the road, somewhere between the romanticised Gypsies of old, and their much-maligned descendants of today.
In his powerful and soulful debut The Stopping Places, a Radio 4 Book of the Week, Damian le Bas tells the story of his journey, and what we can all learn about this hidden side of British life.
On 6th September Damian will visit Dulwich Books to talk about the book. It promises to be a fascinating and enlightening evening touching on history, folklore, spirituality, language, oppression and many other topics.
"Tender and intensely lyrical … the prose is pure delight. The author breathes life into everything he sees … To read The Stopping Places is to better understand the curious history of the Roma and how they have survived into 21st-century Britain" (The Sunday Times)
"A beautiful writer who seems born to tell this fascinating story. It's brilliantly researched, avoiding stereotype and explaining misconceptions, while showing what is vital and special about modern traveller culture" (Amy Liptrot, prize-winning author of The Outrun)
"An insight into the hidden world and culture of travelling people, written with delicacy and affection"(Ken Loach, film-maker and activist)
"Beautifully written and deeply affecting… While this is a beautiful, important book about Gypsy culture, it's also a moving exploration of what it means to belong" (Daily Telegraph)
"I loved Damian Le Bas's beautiful, questioning memoir, at once an introduction into a hidden world and a profound meditation on belonging and difference" (Olivia Laing, author and critic)
Damian Le Bas was born in 1985 into a long line of Gypsies and Travellers. He was raised within a network of relations who taught him how to ride and drive ponies, tractors and trucks, sing melancholy cowboy ballads and speak the thousand-year-old Romani tongue. He was awarded scholarships to study at Christ's Hospital and the University of Oxford. Between 2011 and 2015 he was the editor of Travellers' Times, Britain's only national magazine for Gypsies and Travellers. The Stopping Places is his first book.
TICKETS are £5 redeemable against any book purchase on the night of the event
Please note that we are unable to offer refunds except when an event is moved or cancelled